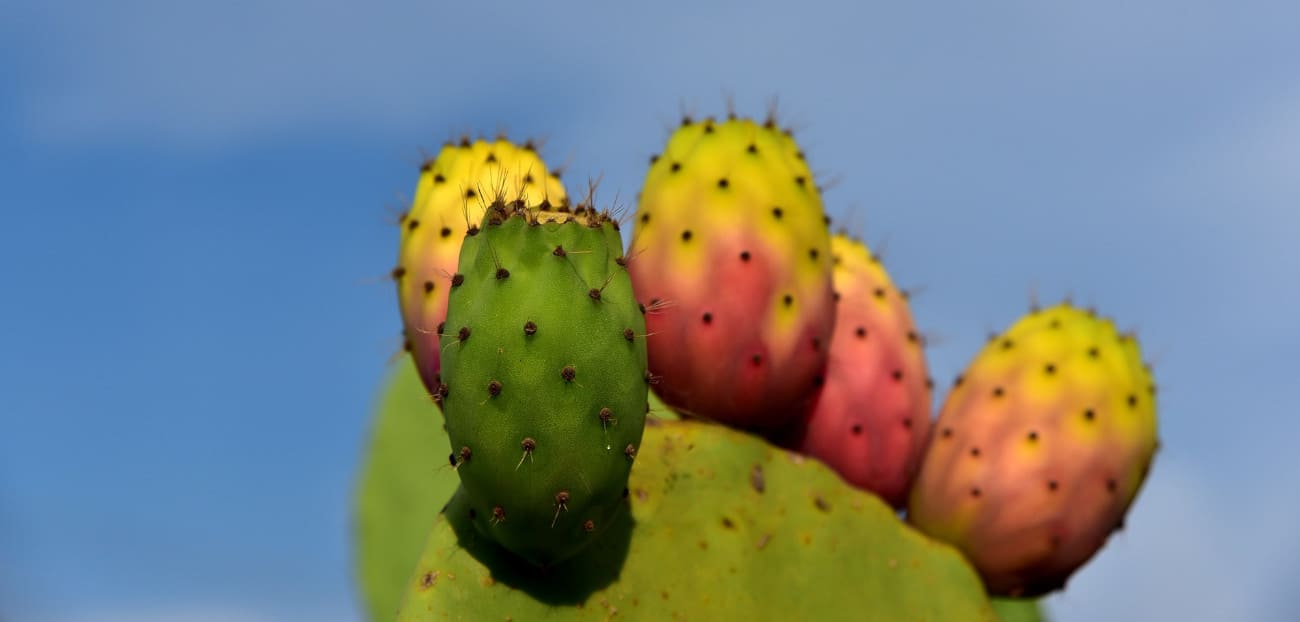 Prickly pear oil and argan oil
Prickly pear oil and argan oil
Prickly pear oil and argan oil – The prickly pear oil has several extraordinary properties for the production of highly valued cosmetic products in skin care. The argan oil is less valuable but it is largely used too for cosmetic products.
Our natural cosmetics: VISIT THE SHOP ROVITI.
The physico-chemical analyzes of prickly pear natural oil points out that its characteristics make it perfect for natural cosmetics. Even more than other natural oils made famous by the large cosmetic manufacturers, such as oil d'Argan.
Characterizing elements for both oils
Let's see specifically the principles contained in the two oils. In fact, by analyzing the elements, we can see that prickly pear oil contains:
High content of polyunsaturated fatty acids (omega6). On average it is double that of argan oil. 75 -80% of the total content is made of fatty acids.
Considerably lower content of saturated fatty acids. 50% less than argan oil.
High content of gamma-tocopherol (vitamin E). Up to 0.7 g / kg. Argan oil has 0.4 g / kg.
High content of phytosterols (up to 900 mg / kg). β-sitosterol is present up to 630 mg/kg.
Argan oil has a phytosterol content of 180 mg / kg. The analysis does not detect the presence of β-sitosterol.
The prickly pear oil has a high vitamin content. Sterols and polyunsaturated fatty acids, including omega 6. That is why it is much more useful for skin care than Argan oil.
Some applications of prickly pear seeds oil for skin care
Both prickly pear oil and argan oil are used for cosmetic treatments. But prickly pear oil has much better caractheristics for this purpose. There are some important benefits of using natural oils.
PRODUCTS FOR THE FACE AND FOR THE BODY
The use of prickly pear oil in cosmetic products for the face and body is indicated as a moisturizing agent. Particularly for dry skin. That is thanks to the presence of essential unsaturated fatty acids, especially omega-6.
In fact, it has been observed that a greater intake of linoleic acid (Omega-6) is related to the reduction of skin dryness. And, at the same time it improves the senile atrophy.
The use of prickly pear oil protects, conditions and invigorates the skin with sensational effect. It has an amazing effect for all kind of skins.
ANTI-AGE PRODUCTS
Prickly pear seed oil is considered a powerful anti-aging substance. It not only has a deep moisturizing action. But it is also rich in carotenoids and vitamin C and vitamin E (Tocopherols).
This performs an antioxidant action that limits the damage caused by photoaging. In fact, photoaging is responsible for deep and marked wrinkles.
PRODUCTS FOR IMPURE SKIN
Linoleic acid is one of the main constituents of the sebum that forms the external lipid layer whose deficiency is replaced by oleic acid by the sebaceous glands.
The result is the formation of more solid and dry sebum. In oily and acne-prone skin, the sebum produced by the sebaceous glands can clog the hair follicles reducing normal skin transpiration.
All this involves an inflammatory reaction. And the proliferation of some bacteria such as propionibacterium acnes.
This stimulates lipid hydrolysis followed by an increase in free fatty acids, inflammation amplification and damage to the follicle.
Linoleic acid and phytosterols present in fight and contrast acne and oily skin that mainly affect young skin.
Pure prickly pear seeds oil
Prickly pear seed oil plays an important role in the physiology of the skin. Thanks to the content of essential fatty acids (Omega-6 and Omega-3), phytosterols, Vitamin K and tocopherols, it supports natural cell turnover. It carries out the action of restoring the epidermis barrier.
Its constant use is useful in reducing skin imperfections. Restors elasticity to the skin.
HAIR PRODUCTS: hair oil with prickly pear oil and argan oil
Prickly pear seed oil is highly recommended for hair care. Thanks to its rich antioxidant properties, prickly pear oil helps to neutralize hair damage. It is a "tonic" after long exposure to the sun or frequent washing. Fatty acids and vitamin E compact the outer wall of the hair giving it brightness, consistency and volume. The argan oil is suitable too for the same purpose. But it has less vitamin E content. It is rich in antioxidants that help strengthen hair follicles and promote cell production on the scalp.
Comparison between prickly pear oil and argan oil
We report the results of a recent research by ISHS, the International Society for Agricultural Sciences. It is an independent Society of great authority that has examined the two oils from a physical and chemical point of view. The evidence is overwhelming.
Here you can see details about the composition of these natural oils.
| | | | |
| --- | --- | --- | --- |
| Lipids composition. | | Prickly pear oil %. | Argan Oil %. |
| Fatty acids. | LINOLEIC ACID C18:2 (ω6). | 60,69 | 31 |
| | OLEIC ACID. | 21,42 | 42 |
| | PALMITIC ACID. | 12,76 | 15 |
Vitamine.
| | | |
| --- | --- | --- |
| Tocopherols. | Opus ficus indica seed oil mg/kg. | Argan oil mg/kg. |
| Total. | 1200 | 900 |
| Tocopherol. | 700 | 450 |
| | | |
| --- | --- | --- |
| | Opus ficus indica seed oil mg/kg. | Argan oil mg/kg. |
| Sterols. | 905 | 180 |
| β-sitosterol. | 630 | assent |
Hits: 490