What is the origin of the ingredients used in your cosmetics?
The main ingredient of our cosmetics is pure prickly pear seed oil, cold pressed, with D.O.P and BIO certification. The pure oil is 100% made in Italy.
The other ingredients we use in our cosmetics are based on natural raw materials, raw materials from organic farming and raw materials of natural origin.
Why the Made in Italy prickly pear seed oil?
For three main reasons:
According to recent scientific studies, Italian prickly pear oil is "simply" the best from the point of view of its certified properties and beneficial effects for skin care.
The Italian control system relating to certifications and production regulations is among the most severe and reliable in the world.
Since the oil is produced in Italy, we have privileged the skilled Italian workforce and minimized the distances between the production and realization of our cosmetics. The superior quality of the raw material and a low ecological impact are the pillars of our mission for an exceptional final product.
What makes your products unique?
First of all, we chose to formulate our cosmetics with raw materials of 100% Italian origin, and we focused on creating the first line of cosmetic products currently on the market based on prickly pear seed oil.
Furthermore, in our preparations we have added other ingredients (such as hyaluronic acid, vitamin C, olive oil, etc.) creating a strong synergy for obtaining targeted results for different types of skins and for specifics. problems.
The formulations are the result of years of experience in the sector and the proven competence of our laboratory technicians.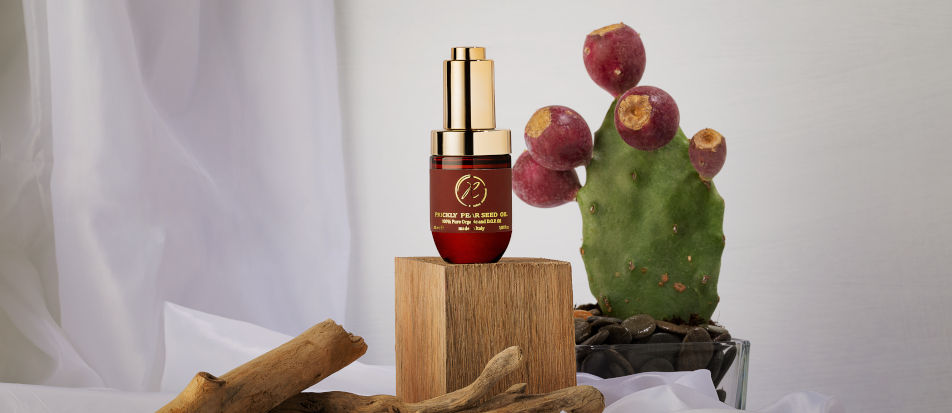 How do you get these results?
In addition to the quality of the raw materials, we have chosen to pay particular attention to the entire production process.
First of all, we excluded any possibly "controversial" ingredient. Even if legally allowed, some ingredients (alone, in their concentration or in synergy with others) that are present in most cosmetics, present problems for human health. We have excluded them a priori.
Furthermore, we have favored an artisanal approach that allows us to intervene manually in all stages of production and above all in the delicate processing of essential fatty acids (Omega 3-6). This would have been impossible to achieve on a large industrial scale.
The downside is that our products are limited in quantities produced. There was a choice to make: we chose quality instead of quantity!
What quality guarantees do you offer?
All our products, our laboratory and our company are certified BIO by the control and certification body "Soil and Health".
In addition, we have submitted our products to strict tests and microbiological stability controls (Challenge test), certified by the "Soil and Health" body.
We invite you to consult the "Certifications" section to view the official documentation.
On each package and on the product sheets on this site, there are instructions for the correct use of our cosmetics.
Pure oil is a real panacea for skin care and is extremely versatile.
We recommend a daily application of a few drops (the oil is very concentrated). Massage for a few minutes until completely absorbed, insisting on the most delicate parts of the face (eye contour, areas prone to wrinkling such as the forehead and neck).
For specific problems such as light sunburn, skin spots, acne, we recommend repeating an application twice a day and possibly combine with your favorite creams, but in particular the night cream, a drop of oil and massage until completely absorbed.
You will immediately notice a "velvet" effect with no greasy residues and quickly absorbed.
For the hair it is an exceptional remedy to eliminate split ends, restore shine and elasticity. We recommend using it as an after shampoo on still damp hair. Insist on the tips and leave for about an hour, rinse the hair and dry.
How to get our personalized advice?
Our specialists are at your disposal for personalized advice and to receive your comments.
A small questionnaire is at your disposal on our site to identify more precisely the issues that interest you. We are of course available at any time to respond to your messages that may reach us with the contact form you will find on our site.
Shipping and availability of products.
At the time of the order we immediately proceed with the shipment, the delivery of which is normally carried out within 4 or 5 working days from the time of the order (except in cases of force majeure beyond our control).
The availability of products is subject to the availability of the raw material: prickly pear seed oil. In fact, in order to guarantee the absolute quality, effectiveness and freshness of the product, this precious ingredient is obtained by cold pressing the seeds that we carry out in a moment as close as possible to the craftsmanship of our final products.
We try to satisfy the strong demand by anticipating the production phases and creating the necessary stocks to make them available to our customers. However, it is possible to have periods in which the product is not available for reasons of production below the demand.
With the card specifically made available to you on the "basket" function, in case of immediate unavailability of the product, we recommend that you book in order to guarantee the availability of a freshly made product that maintains all its effectiveness.
Hits: 37